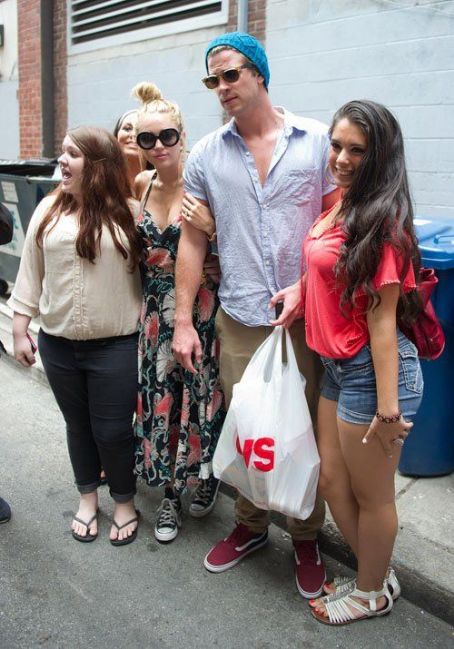 Miley Cyrus Pictures
Miley Cyrus and Liam Hemsworth were overwhelmed with swarms of frenzied fans on the streets of Philadelphia Thursday.
Cyrus followed her fiancé Hemsworth to the set of his latest film Paranoia, and the recently engaged couple caught just way too much attention on the streets of Philadelphia.
Like Us on Facebook
The 19-year-old singer and actress rocked a floral halter dress and twirling up her newly-dyed blonde hair in her trademark bun, while the 22-year-old actor wore khakis and dark red trainers with a buttoned down blue shirt and a blue knitted beanie.
Cyrus clung to the Hunter Games star's hands as they walked through the mob of frenzied fans, The Daily Mail reported.
Miley Cyrus and Liam Hemsworth at one point surrendered to pose for the fans who wanted to snap photos with the engaged couple. Smiles on the couple's faces, however, were half frozen.
Philadelphia fans seem to be too unfamiliar with the star sighting, unlike Los Angeles, where the engaged duo can usually stroll down comfortably.
When Miley and Liam arrived at the Philadelphia airport Tuesday along with their dog Ziggy, the trio was greeted by a storm of paparazzi, which understandably displeased the stars.
"Why do paparazzi feel the need to video me walking Ziggy? I mean really? Are headlines really gonna read Mileys dog takes a sh*t?" Cyrus tweeted.
Cyrus has recently complained over nosy paparazzi on Twitter multiple times.
"I hate paparazzi with a passion. disgusting pigs. (no offense to pigs)," Miley Cyrus tweeted a week ago.
"How is it legal for men I've never seen before to sit in front of my house and then follow me around! So shady and scary," the "Hannah Montana" star was totally pissed when she tweeted again a few days later.
The engagement of Miley Cyrus and Liam Hemsworth has been rumored to be on the rocks, and Cyrus' cryptic Twitter messages may give away some clues.
"Maybe you could've been something I'd be good at," the 19-year-old star tweeted on July 8.
"do you not think that far ahead? Cause I've been thinkin bout forever…" Cyrus tweeted on July 10.
From her new blonde hair to the new tattoo and mysterious marks, Miley Cyrus has left her fans wondering whether she is hinting some unwanted turmoil in her engagement to Hemsworth.
Whether or not to let out some emotional swirl in her heart, Cyrus debuted numerous new looks in recent days.
On Monday, Cyrus came out of her Beverly Hills hair salon with a new razor cut bob, bouncing shorter fringe that framed her face.
Over the last weekend, Miley Cyrus took her new blonde hairdo to Twitter.
"Now that I'm blonde I gotta give duck lips in every photo," the 19-year-old star tweeted with the photo of herself with the new hairdo as she made a duck face.
Just before the new hairdos, Cyrus unveiled her 16th tattoo on July 10th, with a line from Roosevelt's famous speech at Sorbonne in 1910.
"So that his place shall never be with those cold and timid souls who knew neither victory nor defeat," says her tattoo.
© 2013 Fashion & Style.com All rights reserved. Do not reproduce without permission.